Top Rated Commercial Electrical Contractors
Serving California Cities & Suburbs…
Licensed, Insured & Bonded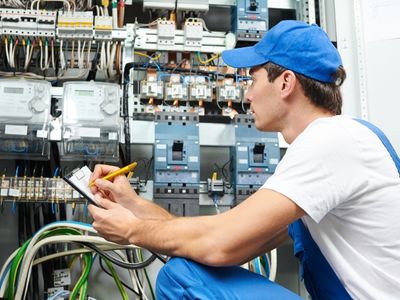 Business owners know how costly downtime can be. And electrical faults or other electrical issues with the electrical system of a commercial building can cause power interruptions or malfunctions that'll result in downtime.
In addition to this, electrical faults can make the workplace unsafe for you and your employees.
So, the faster you can get your building's electrical systems working optimally, the quicker you'll be able to get your business running fully, and the more money and time you'll save.
Here at Los Gatos Electricians, we help you find experienced, professional commercial or residential electricians quickly.
Our team of commercial electricians are highly trained professionals that work on the repairs, installation, and maintenance of wiring, electrical machinery, and electrical systems that are used in commercial buildings.
Because of the scope and complexity of commercial electrical projects, not just any electrician can perform electrical repairs, installations, or maintenance in your commercial building.
Our commercial electrical contractors have the experience and equipment needed to complete your commercial electrical repair and installation services in a timely, efficient, and safe manner.
Whether you're dealing with minor repairs, major repairs to your electrical system, or major electrical installation within your business building, you can count on our Commercial Electricians to deliver high-quality service.
Once you identify any challenge with your building's electrical system, simply give us a call and we'll send you professional commercial electricians immediately.
The electricians will assess the situation to identify the cause of the problem, then they'll get to work, fixing it quickly so your business can continue running smoothly again.
Some of our services include:
Wiring and rewiring
Installing electrical components (such as lights, electrical panels, transformers, switches, service boxes, etc.)
Inspecting electrical systems to ensure proper performance
Troubleshooting and fixing problems in wiring or electrical components
Designing and building electrical systems
Maintaining electrical systems
Our commercial electricians follow the state, local and national guidelines for wiring and electrical systems.
Contact us now for your commercial electrical repairs, installations, and maintenance services. Call us now at (855) 415-6677