Top Rated Residential Electrical Contractors
Serving California Cities & Suburbs…
Licensed, Insured & Bonded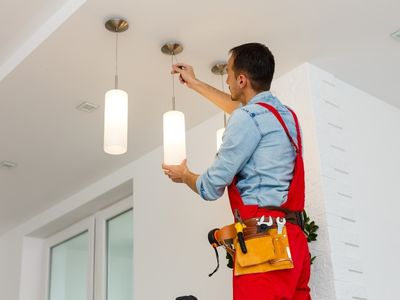 We are "Residential Electricians" and we help you keep your home comfortable and safe at all times by ensuring that your electrical appliances and electrical systems are working properly.
The safety of your home is important, and you can't afford to leave your building's electrical services in the hands of incompetent electrical contractors. 
Not only will they cost you more money in the long run, they might also put your life and the life of your loved ones at risk.
Our electrical contractors deliver reliable electrical services while adhering to strict safety standards and regulations to ensure that you and your loved ones remain safe.
Whatever your residential electrical service needs are, our electrical contractors are highly trained and licensed electricians that have experience with handling the repairs, installation, construction, or maintenance of electrical systems and appliances.
Customer satisfaction is our top priority. For every job, our electricians combine their expertise with excellent customer service to ensure you have a great experience.
When you work with our experience residential or commercial electricians, you'll get quality and reliable electrical services at competitive prices.
Contact us now for quality electrical repairs, installation, upgrades, and maintenance. Call us now at (855) 415-6677
Electrical Repair Services:
Electrical appliances and systems in the home, such as lighting, heating systems, air conditioning, sockets, transformers, circuit breakers, and other electrical appliances or components do malfunction sometimes.
When this happens, you'll need to contact a professional electrician immediately to assess the situation, identify the cause of the problem, and fix it.
Our electricians have experience with handling residential electrical repairs in a safe and efficient manner.
Electrical Installation Services:
Whether you want to install a ceiling fan in a room that does not have ceiling fan wiring, or you want to install outdoor lights in your backyard, or other parts of your home. 
Or perhaps you've just moved into a new home or apartment and the existing outlets were installed in places that are not convenient for your use…
Whatever type of electrical installation services that you need in your home, we've got you covered.
Our electricians are experienced in performing a wide range of installations. 
They have the necessary equipment required to safely execute such installations.
Electrical Upgrade Services:
To ensure the safe and optimal performance of the electrical systems in your home, you'll need to do some upgrades. 
This includes changing older electrical fixtures to newer fixtures; upgrading electric panels and service boxes; or installing new lighting, new receptacles/outlets, new electrical lines, new wires, etc.
No matter how simple or complex the upgrade might be, you can count on our electricians to safely complete any electrical upgrade required in your home.
Our Services Include:
HVAC wiring
Electrical repairs
Surge protection
Rewiring appliances
Transformer installation
House wiring, rewiring (three-phase wiring)
Installing interior lighting and outdoor lighting
Contact us now for your residential electrical repairs, installation, upgrades, and maintenance. Call us now at (855) 415-6677